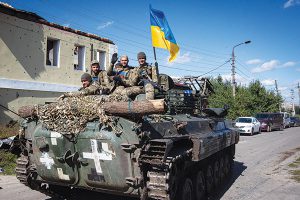 Bloomberg
The Kremlin is moving hastily to stage sham votes on annexing the regions of Ukraine its forces still control, after Kyiv's military drove Russian troops from large areas of territory taken in their seven-month-old invasion.
The so-called Donetsk and Luhansk People's Republics, as well as Kherson, may hold their votes as soon as this weekend, Interfax quoted officials as saying Tuesday. Ukraine and its allies have denounced the referendums as illegal and few countries are likely to recognize the results. Russian-backed officials in Zaporizhzhia, where they don't hold even the regional capital still vowed to move quickly toward a vote.
In Moscow, officials said they'd grant the regions' requests to be annexed if they made them. Former President Dmitry Medvedev, who's now deputy head of the Security Council, said the annexation would be "irreversible" and enable Russia to use "all possible force in self-defense" in the newly-acquired territory.
The move threatens to escalate the conflict even further, potentially giving President Vladimir Putin the formal legal basis to use nuclear weapons to defend what Moscow would consider Russian territory. Annexation, even though it's sure to be rejected internationally, would likely torpedo any future peace talks, as Russia has said it won't cede territory it considers its own while Kyiv has refused to give up any land taken by Moscow.
'Ultimatum' to Kyiv
Putin is laying down another ultimatum to Kyiv and its US and European allies with the implicit threat of nuclear escalation, said Tatiana Stanovaya, founder of the R.Politik research group.
"To guarantee 'victory,' Putin is ready to immediately hold referendums to gain the right (as he understands it) to use nuclear weapons to defend Russian territory," she said. "Either Ukraine retreats, or it's nuclear war."
US President Joe Biden over the weekend said any use by Russia of chemical or tactical nuclear weapons would draw a "consequential" response. "They'll become more of a pariah in the world than they ever have been," he told 60 Minutes. "And depending on the extent of what they do will determine what response would occur."
Russia's MOEX stock index slumped as much as 11%, the most since the invasion started on Feb. 24, the worst performance globally on Tuesday.
Annexation would help the Kremlin reassure supporters there worried by its hurried retreat from other territories in the face of the Ukrainian advance in the last few weeks.
"We're absolutely certain of the results of the referendum and determined to carry it out as soon as possible," Denis Pushilin, Russian-backed head of the Donetsk separatist republic, said on his Telegram channel as he made a televised appeal to Putin to accept the region as soon as possible.
By making the occupied zones formally part of Russia under the country's laws, the votes may also allow the Kremlin to deploy conscript troops there, in addition to the current force of contract soldiers and military contractors.