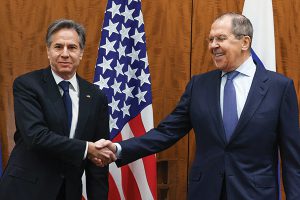 Bloomberg
Russia hit back on Sunday after the UK alleged that Moscow is plotting to install a pro-Russian leader in Kyiv, with the West continuing to warn that Moscow could yet invade Ukraine.
The assertions, offered without a timeline on the intelligence, were contained in a UK Foreign Office statement.
The UK claim is "evidence" that Nato countries, not Russia, "are escalating tensions around Ukraine," the Russian Foreign Ministry said in a statement on Sunday. The statement demanded the Foreign Office "stop spreading nonsense."
The UK said Saturday that Yevhen Murayev, a former Ukrainian member of parliament, was a potential candidate to be installed by Russia.
The Foreign Office said it had information that Russian intelligence services maintain links with "numerous" former Ukrainian politicians. It mentioned four by name who are already subject to Western sanctions. The men, who left Ukraine in 2014, are believed to reside in Russia.
The assertions precede a UK bid to ramp up pressure on Russia, with the defense and foreign secretaries set to travel to Europe for talks. Prime Minister Boris Johnson will schedule calls with Group of Seven leaders this week to finalize additional sanctions on backers of President Vladimir Putin, according to officials.
In Washington, a National Security Council spokeswoman called the alleged plotting "deeply concerning."
President Joe Biden met with his national security team on Saturday to discuss continued Russian aggression toward Ukraine. He was briefed on Russia's military buildup along the Ukrainian border and discussed the range of options for the US and its allies, a White House official said.
Last week, the US said Russian actors were preparing potential sabotage operations against their own forces and fabricating provocations on social media to justify an invasion into Ukraine.
US military aid started arriving in Ukraine on Friday "in the face of growing Russian aggression," the US Embassy in Kyiv said on Twitter. The UK is also sending supplies.
Russia has assembled a large armed force on its border with Ukraine and sent troops and armor to Belarus, to Ukraine's north, for joint military drills scheduled to begin Feb. 10.
Moscow has repeatedly denied that it has any intentions to invade.
UK warns against non-essential travel to Ukraine over Russia
Bloomberg
The UK is advising against non-essential travel to Ukraine, the Foreign Office announced, and British nationals in the country were advised to register their presence.
The move puts the UK in line with other nations in the Five Eyes intelligence alliance, including Australia, Canada, and the US
"The situation in Kyiv and other areas outside Donetsk and Luhansk is generally calm. However, events in Ukraine are fast moving. There is continuing uncertainty about Russian intentions," the Foreign Office said in Saturday's advisory.
The agency previously advised against all travel to Donetsk oblast, Luhansk oblast and Crimea. Bloomberg News that the Biden administration is weighing whether to evacuate family members of diplomats stationed in Ukraine.