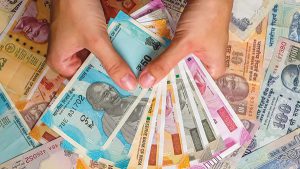 Bloomberg
The rupee's recent gains may prove to be fleeting because of pressure from India's persistent current-account gap and the central bank building up its foreign-exchange reserves.
The currency has lagged peers from the Thai baht to the Indonesian rupiah this month, gaining only 1.4% even amid sustained dollar weakness. QuantEco Research expects the rupee to slip towards 83.5 per dollar in the next three months, down over 2% from 81.6 on January 27. Nuvama Professional Clients Group sees it dropping past 83.
The currency's appreciation is being limited by the Reserve Bank of India (RBI) building back up its reserves, which hit a two-year low in October. Any dip in the dollar-rupee rate is seen as an opportunity for the RBI to stock up, said Abhilash Koikkara, head of forex at Nuvama.
And in the past week, investor confidence in India may have been shaken after short seller Hindenburg Research published a report saying companies linked to Indian billionaire Gautam Adani had engaged in stock manipulation and accounting fraud. Adani's group of companies labelled the report as bogus, and over the weekend published a 413-page rebuttal.
The rupee forecasts highlight the downside risk for the Indian currency, which analysts surveyed by Bloomberg expect to end the quarter at 82 against the dollar. While the Bloomberg JPMorgan Asia Dollar index has rallied more than 7% since the start of November 2022, the rupee has only appreciated 1.5%.
The underperformance is also due to the wide current-account deficit that India continues to run, along with its fiscal shortfall. Expectations of a persistent deficit in the next financial year "should continue to put mild depreciation pressure on the rupee," said Vivek Kumar, an economist at QuantEco.
The government's budget on February 1 is expected to show that Prime Minister Narendra Modi is sticking with his fiscal consolidation path. This may provide "brief support" for the currency, said Gaura Sengupta, an economist at IDFC First Bank Ltd. in Mumbai.
That said, in recent years the rupee has tended to decline after the budget.
The current-account gap will shrink to 2.8% of gross domestic domestic product in the financial year ending March 2024, from an estimated 3.2% this fiscal year, according to Bloomberg Economics. Even so, that would still be high relative to the average of 1.5% of GDP over the previous 10 years, it said.