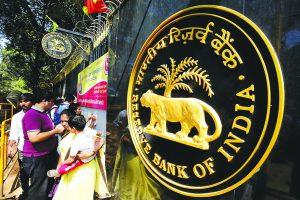 BLOOMBERGÂ 
The Reserve Bank of India (RBI) left its key interest rate unchanged for a second meeting and retained its tightening stance, signalling rate-setters want to see inflation moderating further while weaker monsoon risks remain a concern.
A six-member monetary policy committee voted unanimously to keep the benchmark repurchase rate at 6.50%. All 40 economists in a Bloomberg survey predicted the hold.
The panel decided 5:1 to retain the policy stance focused on "withdrawal of accommodation," which was introduced April last year. Thirteen of the 18 economists who shared their forecast on the stance expected the move.
"Close and continued vigil on the evolving inflation outlook is absolutely necessary, especially as the monsoon outlook and the impact of El Nino remain uncertain," Governor Shaktikanta Das said in a livestreamed address from Mumbai.
"The continuation of the stance of withdrawal of accommodation should be seen from this perspective," he added.
Bonds edged lower, with the yield on 10-year note rising by three basis points to 7.01%, while the rupee was steady. Stocks declined, paring earlier gains.
India joins most global central banks on pausing on rate hikes as commodity prices ease and policy makers are starting to signal their tightening cycle has concluded.
At the same time, surprise rate hikes in Australia and Canada this week underscore the stickiness of inflation worldwide.
Das reiterated the rate hold is a pause, not a pivot in the post-policy press conference.
"There is very little sense of any shift in RBI's policy thinking today, as the resilient growth and falling inflation provides a lot of degrees of freedom, from a policy perspective," said Rahul Bajoria, economist at Barclays.
Economists surveyed in a Bloomberg survey saw India's May's inflation pace slowing 4.39%, a 20-month low when data is released next week.
The RBI wants to see inflation settle near the mid-point of its 2%-6% range. Inflation in March and April fell within the upper limit of the target.
"Inflation should align with 4% target on a durable basis, not a one-off basis," Das said after trimming the RBI's inflation forecast to 5.1% from 5.2%. "It is always the last leg of the journey which is the toughest," he added.
The central bank retained a 6.5% growth target in the current fiscal year, indicating it wants to preserve the trajectory of India's booming economy even as rising inequality is squeezing consumer spending.