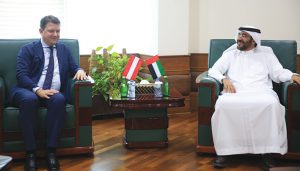 RAS AL KHAIMAH / WAM
The Ras Al Khaimah Chamber of Commerce and Industry and the Austrian Embassy in the UAE met to discuss opportunities for economic and commercial cooperation between Ras Al Khaimah and Austria. The goal of the meeting was to explore ways to create strong bilateral partnerships that will benefit the business communities of both countries.
The meeting was attended by Youssef Mohamed Ismail, First Vice Chairman of the Chamber and Head of the Supreme Committee of Saud Bin Saqr Foundation for Youth Project Development, as well as Dr Etienne Berchtold, the Ambassador of the Republic of Austria to the UAE, and Johannes Brunner, Austrian Commercial Counsellor in the UAE.
Mohammed Hassan, Acting Director-General of the Chamber, also participated in the meeting.
During the meeting, the participants discussed the opportunities and advantages provided by both sides and emphasised the importance of improving their commercial relations and increasing the trade exchange between Ras Al Khaimah and Austria.