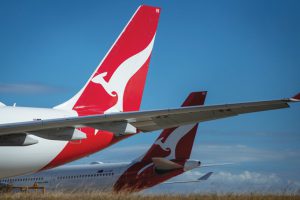 BLOOMBERG
Qantas Airways illegally sacked 1,700 ground workers during the pandemic, Australia's top court ruled, delivering a further blow to the reputation of the country's most-complained-about business.
The High Court of Australia dismissed Qantas' appeal against an earlier judgment that found the airline axed the employees unlawfully.
Qantas now faces penalties and compensation payments to affected workers.
Qantas outsourced ground-handling operations at 10 Australian airports in late 2020 as the pandemic brought aviation to a standstill. Union leaders argued workers were axed to avoid looming negotiations over pay and conditions and potential strikes.
The ruling comes days after Australia's competition regulator sued Qantas for allegedly selling fake seats on thousands of flights it had already cancelled.
Chief Executive Officer Alan Joyce brought forward his departure over the claims.
After the ruling, Transport Workers Union National Secretary Michael Kaine called on Qantas Chairman Richard Goyder and the airline's entire board to quit. The carrier holds its annual general meeting on November 3.
"Serious consequences should flow from this," Kaine told reporters outside court.