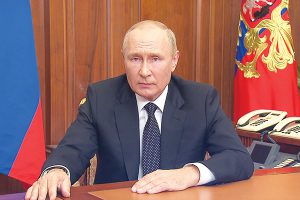 Bloomberg
President Vladimir Putin declared a "partial mobilization," calling up 300,000 reservists, in a major escalation of his flagging invasion of Ukraine, which he portrayed as a fight to the death with the US and its allies.
As Russia moves to annex occupied Ukrainian territory, Putin also renewed his warnings of a nuclear threat. "When the territorial integrity of our country is threatened, we will certainly use all the means at our disposal to protect Russia and our people," he said in a televised national address Wednesday. "This is not a bluff."
"Those who are trying to blackmail us with nuclear weapons should know that the wind patterns can also turn in their direction," the president said, accusing the US and allies of seeking to "destroy" Russia.
Putin's land grab and military escalation comes after a Ukrainian counteroffensive in the last few weeks dealt his troops their worst defeats since the early months of the conflict, retaking more than 10% of the territory that Russia held. The Kremlin had long resisted announcing any steps toward mobilization, seeking to limit the impact of its seven-month invasion on the Russian population, but the latest battlefield losses have underlined its shortage of manpower.
WWII Precedent
It's not clear whether the mobilization – the country's first since the Nazi invasion in World War II, according to historians – will be enough to slow Ukraine's advances on the battlefield. Kyiv now has more troops armed with advanced weapons supplied by the US and its allies. Within Russia, the measure set off alarm as citizens who'd been largely isolated from the realities of the war raced to figure out if they or their loved ones might be sent to the front.
Defense Minister Sergei Shoigu said the reservists wouldn't be called up all at once under Putin's partial mobilization. The order applies only to those with military experience and wouldn't affect students or others who haven't previously served in the army, he said.
"This is another bad and misguided step," German Vice Chancellor Robert Habeck, who is also the economy minister, said. "For me and for the federal government it's in any case clear that we will continue to fully support Ukraine at this difficult time." The additional troops would be more than the approximately 180,000 that the US estimated Russia had massed at Ukraine's borders before the Feb. 24 invasion. Ukraine, which declared a mobilization early in the war, now has around 700,000 in the field with months of training and has said it aims to create a million-strong army.
Putin made his threats a day after Russian-installed occupation authorities in the regions of Ukraine's east and south that Kremlin forces still control hastily announced plans for "referendums" starting Friday on annexation.