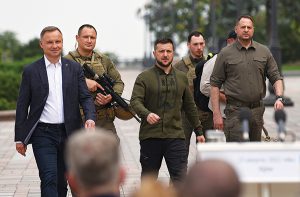 Bloomberg
Poland has spoken to the US about sharing atomic weapons to counter the growing threat from Russia, President Andrzej Duda said, after the Kremlin stepped up nuclear saber-rattling over Ukraine.
The biggest eastern European Nato member has been ramping up military spending following Russia's invasion of neighboring Ukraine, but until now officials haven't said they've spoken with allies seeking nuclear weapons as a deterrent. The comments raise questions over whether US nuclear weapons could be hosted for the first time by a Nato member that was once behind the Iron Curtain. Doing so would defy warnings from President Vladimir Putin that Russia will respond to any expansion of the alliance's military capabilities in its former back yard.
"The problem, first of all, is that we don't have nuclear weapons," Duda said in an interview with the Gazeta Polska newspaper published on Wednesday. "There is always a potential opportunity to participate in nuclear sharing."
Nuclear sharing can comprise anything from offering escort or reconnaissance jets for a nuclear mission, or offering dual-capable aircraft available for nuclear roles to actually hosting an ally's nuclear weapons. Allies such as Germany, Belgium, The Netherlands, Italy and Turkey host US nuclear weapons on their soil, according to the Center for Arms Control and Non-Proliferation.
A senior diplomat in Warsaw said Duda's comments could potentially include any of those activities. The diplomat, who declined to be named because he wasn't authorized to speak publicly on the matter, said hosting the weapons would be in the security interest of Poland, the region and all of Europe.
"We have spoken to American leaders about whether the US is considering such a possibility" of Poland sharing the weapons, Duda told the newspaper. "The topic is open."
In April, Poland's de-facto leader Jaroslaw Kaczynski, who heads the ruling Law & Justice Party, told the German Welt am Sontag newspaper that Poland was "open" to hosting US nuclear weapons.
Ukraine retakes more of south as Putin signs off on annexation
Bloomberg
Ukrainian forces kept up the pressure on the beleaguered Russian army, retaking areas in the south and the east and chipping away with each passing day at the territory President Vladimir Putin claimed to annex.
Ukrainian forces pressed through Russian defensive lines in the southern region of Kherson, the General Staff in Kyiv said on Twitter. They also liberated several small towns in Luhansk, according to Ukraine's local governor, Serhiy Haiday.
The army is carrying out "a pretty fast and powerful advance" in the south of the country, Ukrainian President Volodymyr Zelenskiy said in his nightly address. Dozens of settlements in the regions of Kherson as well as Kharkiv in the northeast and the eastern Luhansk and Donetsk have already been liberated this week, he said.
Russian authorities evacuated the local population after Moscow's forces pulled out of thinly defended areas of Kherson, said occupation official Kirill Stremousov.