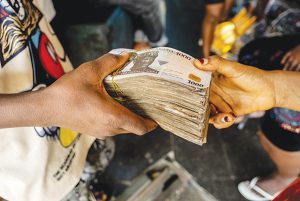 Bloomberg
The central bank of Nigeria expects at least 2 trillion naira ($4.3 billion) of cash to return to banks by January 31 when the deadline to replace high-value currency notes ends.
Residents exchanged as much as 1.5 trillion naira of the old notes as of last week, Governor Godwin Emefiele told reporters in Abuja. "We are hoping that getting to this week, we will move closer to 2 trillion naira," he said.
Africa's most-populous nation started issuing redesigned 200-, 500-, and 1000-naira notes in mid-December to mop up excess cash liquidity and take control of money supply. Nigeria's cash in circulation has more than doubled since 2015 to 3.23 trillion naira, Emefiele said.
That suggests "people are hoarding it, people are keeping vaults in their homes, we cannot allow them to be banks in their homes, they don't have the license to build bank vaults in their homes," he said.
To increase adoption, the central bank allowed citizens without bank accounts in rural areas and those with limited access to formal financial services to exchange a maximum 10,000 naira per person of the old notes through banks or agents without having to open an account.
It's also working with about 1.4 million agents and lenders to reach citizens across the country to swap old notes for new ones or open bank accounts.
Using representatives to penetrate the rural areas forecloses an extension of the deadline, the governor said.
People who don't exchange the notes by January 31 will have "useless" cash in their hands, Emefiele said.
That may not happen if the central bank accedes to the request of Nigerian lawmakers who on Tuesday asked for an extension of the deadline for phasing out the existing higher denominations of the naira to July. Senate President Ahmad Lawan cited shortage of the new notes and inadequate financial industry personnel in remote areas to distribute the currency.