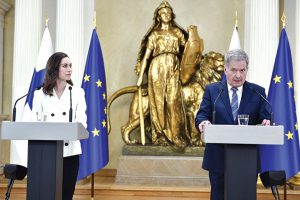 Bloomberg
Finland announced it will apply to join Nato, and Sweden is likely to follow. Turkey doesn't plan to block the Nordic countries' membership bids, Nato chief Jens Stoltenberg said after meetings in Berlin. The military alliance in June is expected to highlight Russian behavior as a direct threat in an updated strategic document.
The UK defense ministry estimated that Russia has likely lost a third of the forces it sent to Ukraine in February, and its offensive in the Donbas region has stalled. Ukraine won the Eurovision Song Contest.
"Turkey has made it clear that its intention is not to block membership" of Nato for Finland and Sweden, said Jens Stoltenberg, secretary general of the military alliance, speaking after a two-day meeting
of Nato foreign ministers in Berlin.
Stoltenberg said he was confident Turkey's concerns , which came to the forefront, would be addressed without delaying the membership procedure. "A quick and swift process," is still expected, he said.
Addressing concerns about possible moves by Russia before the Nordic nations are fully ratified, Stoltenberg said "we will look into ways to provide security assurances, including by increasing Nato presence in the Baltic region, in and around Finland and Sweden."
The shift from Russian gas to costlier LNG could prompt some German manufacturers to relocate to the US, Michael Huether, director of the research institute IW Cologne, said in an interview with Stuttgarter Zeitung and the Stuttgarter Nachrichten.
As Germany prepares to
shift permanently away from cheaper Russian supplies, the US's energy independence could make it an attractive option, Huether said.
He added that Russia's economy will be permanently damaged by its standoff with the West. "Putin is committing economic suicide," Huether said.
German Foreign Minister Annalena Baerbock predicted the war in Ukraine "will not be over so quickly" and said Germany and its international allies will face fallout from Russia's invasion for decades.
"Russia's break with all the norms of peaceful coexistence, especially the European peace order, the deliberate destruction of humanitarian law: all this is a radical turning point in the international order," Baerbock said after hosting talks with Nato counterparts in Berlin.
"All this has drastically changed the security situation in the European and Transatlantic sphere, and it requires far-reaching strategic answers," she added. Sauli Niinisto is expected to meet with Senate Minority Leader Mitch McConnell and Republican senators John Barrasso, Susan Collins and John Cornyn in Helsinki on Monday, his office said.
The meeting comes after Finland said it would apply to join the Nato military alliance, and will focus on the Nordic country's security policies and
Russia's war on Ukraine.
McConnell and the senators met in Kyiv on Saturday with President Volodymyr Zelenskiy.
Nato allies are expected to highlight Russia's behaviour as a direct threat in an upcoming strategic document, where they'll also address how to
better support neighbouring countries that are vulnerable to coercion and aggression, according to a Nato official.