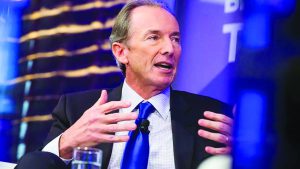 BLOOMBERG 
James Gorman, who transformed Morgan Stanley after it nearly collapsed during the global financial crisis, plans to step down as chief executive officer (CEO) within the next year and assume the role of executive chairman.
"It is the board's and my expectation that it will occur at some point in the next 12 months," Gorman, 64, said at the firm's annual meeting. "That is the current expectation in the absence of a major change in the external environment."
Gorman, who became CEO at the beginning of 2010, said there are three finalists to take over as CEO when he leaves. Though he didn't name his likely successors, Ted Pick and Andy Saperstein, the New York-based firm's co-presidents, have been in the running alongside investment-management chief Dan Simkowitz.
Gorman said that he will serve as executive chairman "for a period of time" after leaving the CEO post. When Gorman succeeded John Mack as CEO, Mack stayed on as chairman for two years.
"It will be the end of an era," Wells Fargo & Co. analyst Mike Mayo said in a Bloomberg Television interview. "It has been one of the best-performing bank stocks since he took over as CEO."
The Australian-born Gorman is now in his 14th year atop Morgan Stanley. His time as CEO has been marked by a major strategic overhaul of the firm that's been accelerated by two of the largest deals struck by one of the big US banks in the years after the 2008 financial crisis.
Those transactions — the acquisitions of E*Trade Financial Corp. and Eaton Vance Corp. — and the bank's growing reliance on a dual engine of the investment bank and its giant wealth-management business delivering growth have made the company's stock the best performer among peers in the past decade.
Gorman is among a group of long-tenured Wall Street CEOs that also includes Brian Moynihan, 63, who's led Bank of America Corp since 2010, and the 67-year-old Jamie Dimon, who has been head of JPMorgan Chase & Co since 2005 and repeatedly quips that he plans to remain atop the biggest US bank for five more years. While there has been a push for diversity in finance and across corporate America, only one large US bank is led by a woman — Citigroup Inc.'s Jane Fraser — and each of Gorman's likely successors is, like him, a White man.
Morgan Stanley has more than tripled in value during Gorman's tenure, as he built the firm into the world's largest wealth manager starting with the purchase of Citigroup Inc's Smith Barney brokerage.