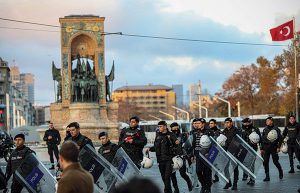 Bloomberg
Separatist Kurdish militants in Syria launched a cross-border mortar attack on a Turkish border town, killing at least three people including a school teacher, authorities said.
Violence between Kurdish militants and Turkey is spiraling after Turkish warplanes bombed bases of outlawed Kurdish PKK group in northern Iraq and affiliated US-backed Kurdish fighters in Syria in retaliation for a deadly bombing that targeted civilians in Istanbul on November 13.
Speaking to reporters overnight, Turkish President Recep Tayyip Erdogan said the offensive could expand beyond air strikes if needed, adding that military authorities would decide on potential troop numbers.
"It is out of question to keep this limited to just an air operation," Erdogan said. "Land forces should be involved as well."
At least three mortar rounds hit the border town of Karkamis, on the west bank of the Euphrates river, causing damage at three schools and two houses, authorities said. At least 10 people were wounded, they said, a day after a rocket attack by the militants wounded eight soldiers and policemen in the border town of Kilis, further west.
The violence could shore up flagging domestic support for Erdogan ahead of next year's election, but risks stoking tensions with Washington which supports Kurdish forces who have played a major role in the US-led effort to defeat IS.
Turkey says US-backed Kurdish PYD and its armed-wing of YPG in Syria are merely an extension of the PKK, designated a terrorist organization by Turkey, the US and EU. It has repeatedly vowed to crush the group, which gained control of about one-third of the country after driving out IS, fearing that its territorial gains could rekindle a decades-old fight by the PKK for autonomy in Turkey's largely Kurdish southeast.