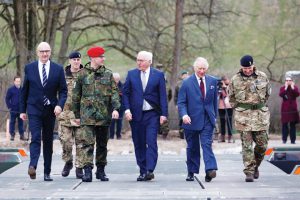 BLOOMBERG
King Charles III waded into European politics, praising Germany's decision to reverse decades of defense policy by supplying Ukraine with arms.
"Germany's decision to send such significant military support to Ukraine is remarkably courageous, important and appreciated," Charles said in a speech to the lower house of parliament in Berlin. Speaking to Bundestag lawmakers in German during his first state visit as Britain king, he said Russia's "unprovoked" attack had "inflicted the most unimaginable suffering on many innocent people."
"Countless lives have been destroyed; freedom and human dignity have been trampled in the most brutal way," the king said. "The security of Europe has been threatened, as have our democratic values," he added. "Even as we abhor the appalling scenes of destruction, we can take heart from our unity — in defense of Ukraine, of peace and freedom."
The Britain king's speech in Berlin, skipping between English and German, was the first time that a member of the British royal family addressed the Bundestag when it's in session. His visit has been billed as a test of Britain's soft diplomacy in rebuilding European ties frayed by Brexit.
Charles, who earlier met with German Chancellor Olaf Scholz, celebrated cultural ties and friendship between the two nations. He charmed German lawmakers with a few gentle jokes about the differences between the two nations.
"Like many British people, I have close personal ties here. In my case, cherished family relationships and associations that go back generations," he said.
Bundestag President Bärbel Bas invited the king and his wife, Queen Consort Camilla, to view the first volume of the Bundestag's Golden Book of illustrious visitors, which was signed by Charles's late mother, Queen Elizabeth II. Charles thanked the German people for their messages of support following her death, saying that "Her late majesty won a particular place of affection among the German people."
Steinmeier and his wife Elke Büdenbender welcomed the British royal couple with military honours at the Brandenburg Gate in Berlin, to cheering crowds.