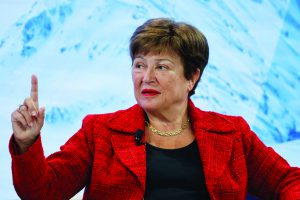 BLOOMBERG
The International Monetary Fund (IMF) is calling on its wealthier member nations to contribute to a trust for the poorest countries that is short billions of dollars at a time of rising demand from economies in debt distress.
The IMF needs about $6.3 billion to meet its fundraising target for the Poverty Reduction and Growth Trust, its main vehicle for providing interest-free loans to the lowest-income countries, Managing Director Kristalina Georgieva said in a blog post ahead of the institution's Spring Meetings next month.
The trust is divided in two parts: loans that the IMF gets from its rich members, and subsidy or grant resources, which must come from funds from nations' fiscal budgets. The shortfall stems from greater loan demand from poor countries since the onset of the Covid-19 pandemic, and the impact of higher interest rates.
The loan portion is often easier to meet, with IMF members lending reserves called special drawing rights that they originally received from the fund and would otherwise hold on their central bank balance sheets. But the grant resources are harder to come by in an era where higher interest rates and slower growth strain federal budgets across the world.
While the IMF has reached about three quarters of the loan resources it's seeking to raise, it's received less than half of the subsidy resources, Georgieva said.
The trust is in "urgent need of replenishment," Georgieva said in a blog post, calling the funding "a matter of utmost priority."
"A failure to secure these resources would jeopardise the IMF's ability to provide much-needed support to low-income countries as they seek to stabilise their economies in an increasingly shock-prone world," Georgieva said.