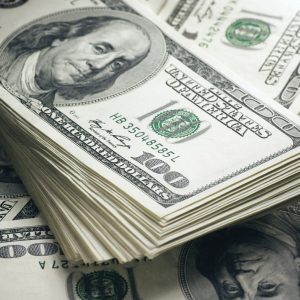 BLOOMBERG
The outlook is set to darken for the dollar in 2024, but the sturdy US economy and high yields will likely support the currency's valuation, according to Goldman Sachs Group Inc strategists led by Kamakshya Trivedi.
The greenback is still up about 1.6% this year, after slipping from its 2023 highs set last month. It's on track for a third straight annual gain with the Federal Reserve signaling it intends to keep interest elevated for an extended period to tame inflation.
"The dollar is still highly valued, and we expect the global economy to be returning to a better balance over the coming year, which should weigh on the dollar over time," the strategists wrote in an annual outlook.
However, the firm's above-consensus view on US growth "and higher yields should provide a high bar to beat for total return prospects," they wrote.
Rather than a sharp dollar depreciation as seen, for example, after the signing of the Plaza Accords in the 1980s, the strategists expect a shallower downturn.