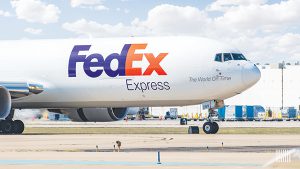 After carving a fifth off the market value of FedEx Corp when it withdrew its annual forecast and announced preliminary results that fell well short of expectations, investors were in a more forgiving mood for the full quarterly report. They mildly welcomed FedEx's effort to chop as much as $2.7 billion of costs over the next 12 months to offset sagging package volume, especially at the Express unit. The shares rose 0.8% on a day when the S&P 500 Index fell 0.8%.
No doubt, the cuts are needed. Package volume at the Express unit fell about 11% in the fiscal first quarter from a year earlier because of disruptions in China from severe Covid lockdowns and in Europe because of Russia's war in Ukraine.
Operating profit at Express fell to a paltry $174 million from $567 million a year earlier.
What should be alarming to investors, though, is that revenue per package at Express was $24.33, up almost 16% from a year ago. That's just shy of record high pricing in the previous quarter. The same thing is happening at the Ground unit. Revenue per package jumped 12% from a year earlier to $11.48, an all-time high.
The big question is why FedEx can't increase profit when it has never had so much pricing power. The company said that it plans to increase prices in January by an average of 6.9% for Ground and Express and as much as 7.9% for its freight business, and that doesn't count surcharges that both FedEx and United Parcel Service have heaped on liberally since the pandemic. These price increases aren't FedEx catching up on inflation. Revenue per package at Ground is up 26% from the same quarter in 2019 and 31% higher at Express.
If the deterioration of demand is as alarming as Chief Executive Officer Raj Subramaniam discussed, it should be difficult for FedEx to maintain the upper hand on pricing over its customers. The rapidly rising costs for e-commerce deliveries have already driven large retailers, including Target Corp and Walmart Inc, to look for solutions of their own to get packages to their customers.
The pendulum of pricing power clearly swung in favor of FedEx and UPS during the pandemic and, at some point, will turn back to the advantage of shippers.
When that happens, shippers will gleefully play one courier off the other to drive hard bargains. Many shippers feel they were taken advantage of during the pandemic when they had no choice but to increase e-commerce sales to stay alive. FedEx and UPS raised prices, tacked on surcharges and limited volume from large shippers.
FedEx still has the upper hand on pricing, Brie Carere, chief customer officer, said on a conference call with analysts. FedEx is negotiating strong increases for contract renewals, she said.
"We continue to execute our revenue quality strategy and pursue business that provides attractive yields," she said. "We continue to delivery new pricing capabilities."
Both FedEx and UPS suspended their service guarantees when the pandemic hit.
—Bloomberg