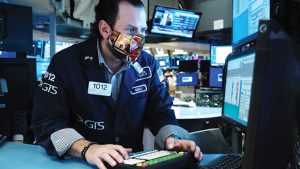 Bloomberg
European stocks followed Asian shares lower on Friday after a slew of Federal Reserve officials signaled they'll combat inflation aggressively. Treasury yields rise, while the dollar fell.
Technology companies, which are seen as most sensitive to higher rates, were among the biggest declines in Europe's Stoxx 600 Index. US futures ticked up after the Nasdaq 100 fell to its lowest level since October.
Fed Governor Lael Brainard said officials could boost rates as early as March to ensure that generation-high price pressures are brought under control, while Patrick Harker and Charles Evans joined the calls for higher interest rates this year. Investors will turn their attention to earnings over the next few weeks to assess companies' performances amid soaring inflation, pandemic restrictions and backlogs.
"We are in a position where much that has been positive for equities is maybe moving to neutral or negative," said Sarah Hunt, portfolio manager at Alpine Woods Capital Investors. "While there are still few alternatives, it makes the equity market ripe for more fluctuations over the next few months as we see how the data shake out and how the Fed reacts."
Electricite de France SA plunged by a record as the French government confirmed plans to force it to sell more power at a steep discount to protect households from surging wholesale electricity prices, a move that could cost the state-controlled utility 7.7 billion euros ($8.8 billion) at
Thursday's market prices.
A majority of strategists still see the rally in European equities continuing this year. The Stoxx Europe 600 Index will rise about 5.2% to 511 index points by the end of 2022 from Wednesday's close, according to the average of 19 forecasts in a Bloomberg survey. Equity funds once more led inflows among asset classes in the week through Jan. 12, as investors reduced cash holdings, according to BofA and EPFR Global data.
Emerging-market stocks and currencies headed for the biggest weekly gains since early September as their outlook was boosted by the US dollar's worst start to a year since 2019. Russia's ruble and South Africa's rand outperformed peers.
Meanwhile, the US will kick off the main earnings season, with JPMorgan Chase & Co, Citigroup
Inc and Wells Fargo & Co
reporting results.
Oil headed for a fourth weekly advance, the longest streak since October, amid signs the market is tightening.