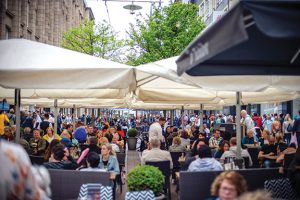 Bloomberg
The euro-area economy grew more than initially estimated at the start of the year as the region moved past a wave of Covid-19 infections and defied headwinds from the early days of the war in Ukraine.
Economic output rises 0.3% in the first quarter, exceeding a flash reading of 0.2%, according to Eurostat figures released Tuesday. Employment, meanwhile, gained 0.5% over same period.
The data highlight Europe's underlying strength as consumers emerge from the pandemic with pent-up demand and large amounts of savings, allowing them to better withstand the pressures created by Russia's invasion. Even so, the conflict has added to cost-of-living concerns by stoking energy prices and feeding already record euro-zone inflation.
The European Commission this week cut its euro-zone growth projection for 2022 to 2.7% from 4%, though still expects the labour market to improve. Employment in the currency bloc rose for a fourth straight quarter, pushing the total further above its pre-pandemic level, surpassed at the end of last year.
The outlook remains highly uncertain, in part because of the risk that Russian supplies of natural gas could stop flowing to western Europe. If that were to become a reality, the continent's recovery would almost grind to a halt, according to the commission.
European Central Bank Executive Board member Fabio Panetta warned this month that the economy is "de facto stagnating," making it difficult for central bankers to decide on their next steps before seeing data for economic activity this quarter.
Even so, a growing contingent at the ECB backs an increase in interest rates in July to quell inflation that's running at almost four times their 2% target, saying price pressures could otherwise become
entrenched.