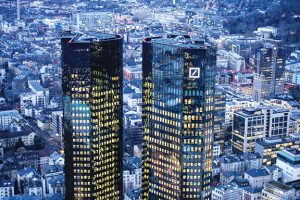 Bloomberg
Deutsche Bank AG's control lapses keep haunting Christian Sewing.
The Chief Executive Officer of Germany's largest lender has spent his almost four years in the role trying to mend relations with regulators and restore a path to sustainable profitability. While he's made progress on the latter, a slew of recent legal and regulatory headaches threaten to overshadow those achievements as he's heading into the final year of his turnaround program.
In the latest setback, the Justice Department has told the Frankfurt-based bank that it may have violated a criminal settlement by failing to inform prosecutors about an internal complaint tied to the lender's asset-management arm.
The complaint from Desiree Fixler, the former head of sustainability at DWS Group, alleged the firm had overstated its commitments to environmental, social and governance criteria. U.S. prosecutors learned of the allegations only after they were made public in August by the Wall Street Journal, which was also first to report the Justice Department notification.
The potential breach involves a deferred prosecution agreement reached in January between the Justice Department and Deutsche Bank in which the German lender agreed to pay more than $130 million to settle charges that it bribed foreign officials and manipulated the market for precious-metals futures. As part of that accord, the bank vowed to cooperate with investigations and make certain disclosures about allegations of misconduct.
The bank has previously been told by the Federal Reserve that its compliance programs aren't up to snuff. It's conducting an internal probe into alleged misselling of derivatives in Spain. And an anti-money laundering monitor put in place by German watchdog BaFin has been given an
expanded mandate.