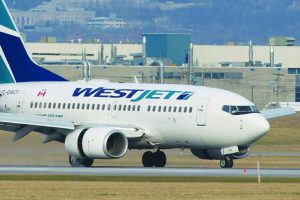 BLOOMBERG 
WestJet Airlines Inc, Canada's second-largest carrier, has begun parking most of its Boeing 737 and 787 jets as it prepares for a possible strike by pilots.
The move comes ahead of what is normally a busy holiday long weekend for travel in Canada. Although talks are continuing, the Calgary-based carrier has been unable to reach an agreement with pilots over pay.
"Any guest impact is too high of a cost in the wake of these negotiations and we sincerely apologise that valued guests were caught in the middle of an avoidable conflict," Chief Executive Officer Alexis von Hoensbroech said in a statement.
Parking the jets will avoid abandoning them in remote locations and minimises potential for stranding passengers and crew, the Onex Corp-owned airline said.
WestJet Link and WestJet Encore, which use smaller aircraft for feeder flights, will continue to operate, as will "limited 737 flights", the company said. The stoppage will also affect WestJet's low-cost carrier, Swoop.
WestJet remains in a stalemate with the Air Line Pilots
Association (ALPA) over "unreasonable wage expectations that if realised would permanently damage the financial viability of the group's future," it said. More than 1,800 pilots are asking for salaries closer to those of their American peers. In February, Delta Air Lines Inc approved 34% pay raises as part of a new four-year contract.
"We remain at the bargaining table, unequivocally committed to achieving a deal as soon as possible, but are equally ready to weather labour action for as long as it takes to arrive at a reasonable outcome," von Hoensbroech said.
Louis-Eric Mongrain, a spokesman for ALPA, said he is "hopeful" an agreement can be reached by the end of the day.
"I think nothing is an impasse. With good will, there's always a solution out there."
The federal government doesn't intend to intervene, other than to serve as an adviser to both parties, according to a spokesperson for Labor Minister Seamus O'Regan.
The outcome could have implications for Air Canada, the country's biggest airline. Its contract could be reopened in September if pilots deem the airline failed to meet benchmarks agreed to in 2014.
An agreement at WestJet "will help establish a benchmark" which Air Canada's ALPA pilots will be looking to match, Air Canada's Chief Financial Officer, Amos Kazzaz said, speaking at an industry conference.
The last major airline strike in Canada occurred in 1998, when Air Canada's pilots walked off the job for thirteen days.