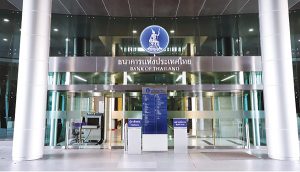 Bloomberg
Thailand's central bank raised borrowing costs by a quarter-point, putting it further behind the policy tightening that peers in the region have followed to tame inflation and stem currency weakness. The baht extended its decline.
The Bank of Thailand's monetary policy committee voted unanimously to raise the one-day repurchase rate by 25 basis points to 1%, as seen by 18 of 23 economists in a Bloomberg survey. The panel is ready to be more flexible in the pace and timing of future actions depending on growth and price conditions, it said in a statement, while reiterating that it will pursue a gradual approach to shield a fragile economic recovery.
The impact of interest rate to the currency isn't clear "so we don't think we need to shift monetary policy" because of the baht's weakness, Piti Disyatat, MPC secretary, said at a briefing. Foreign exchange is just one of the factors affecting the price and growth objectives of monetary policy, he said.
The baht weakened by as much as 1% against the dollar to 38.342 after missing the expectations of five economists for a 50 basis-point increase. "With only one more policy meeting this year, today's 25 basis point adjustment is a lost opportunity to narrow the rate differential with the Fed," said Eugenia Fabon Victorino, head of Asia strategy at Skandinaviska Enskilda Banken AB in Singapore
"The Thai economy will continue to recover but with increased inflation risks," according to the BOT. "The policy rate should be normalized in a gradual and measured manner to the level that is consistent with sustainable growth in the long term."
The move cements BOT's position as the least hawkish in Asia, where even laggards Indonesia and Vietnam have delivered steeper hikes to fight inflation and support their currencies. As the Federal Reserve's hawkish approach to return price gains to target exposes emerging markets in the region to the risk of more capital outflows, BOT may find itself having to raise rates slowly for longer to halt the rout in its currency.
The baht's decline to a 16-year low against the dollar has already raised concerns about rising production costs and imported inflation, with price gains hovering at a fresh 14-year high of 7.86% as of August. BOT has stepped in to curb excessive volatility in the baht, Piti said.