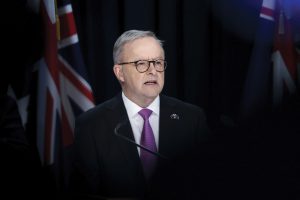 BLOOMBERG
Australian voter dissatisfaction with Prime Minister Anthony Albanese's performance is growing and support for his signature Indigenous Voice to Parliament proposal is declining amid increased frustration over rising living costs.
The center-left government's primary vote slid to 36% in the latest Resolve poll published, the lowest level since it won office in May 2022.
Albanese's net approval rating declined to minus-7, with 47% of respondents disapproving of the job he's doing as prime minister, compared with 40% in favour.
Support for the Indigenous Voice to Parliament, Albanese's signature proposal, has slumped to 43% from as high as 64% a year ago. Australians will vote in a referendum on October 14 for an advisory body made up of Aboriginal and Torres Strait Islanders to be incorporated into the constitution.