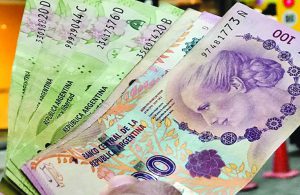 BLOOMBERG 
Argentina sold around 417 billion pesos ($2 billion) in peso-denominated notes and bonds via auction, the latest step in managing a massive local debt pile as the government seeks to extend maturities until after presidential elections in October.
The Treasury sold the securities after receiving offers for around 664 billion pesos, according to an emailed statement from the economy ministry.
Argentina sold inflation-linked notes, discount notes, dollar-linked bonds and "dual" bonds due in 2024, and received fresh financing of around 50 billion pesos, according to a separate economy ministry statement sent by text message.
The country has relied on local auctions and debt swaps in a bid to buy time and manage a $174 billion pile of peso securities, the vast majority of which are indexed to inflation. Still, private investors like banks and mutual funds have become increasingly reticent to participate amid fears of a default ahead of the October vote.
The government said it would force public sector institutions to sell their holdings of dollar bonds for peso-denominated notes. It's a move aimed at preserving the central bank's dwindling cash reserves and easing pressure on Argentina's parallel exchange rate as officials try to avoid a sharp currency devaluation that would fuel inflation already running at more than 100%.
The South American country still faces maturities of around 1 trillion pesos per month between April and June. Argentina is also mulling a sale of new peso bonds maturing in 2026 to public sector creditors in a bid to swap around $20 billion in debt coming due in the second half of this year.