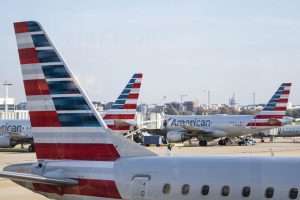 BLOOMBERG
US passenger airline shares sank by the most since July after American Airlines Group Inc and discount carriers warned that higher fuel costs, labour costs and flagging interest in domestic travel were hurting their bottom lines.
American slashed its third-quarter earnings outlook on a jump in jet fuel prices and payment of roughly $230 million in retroactive salary under a new contract for its pilots. Meanwhile, discount carriers raised red flags about the health of the domestic market.
Spirit Airlines cited "steep" discounts for travel ahead of the Thanksgiving holiday, while Frontier saw a recent "significant unexpected change" in bookings, and sales below historic patterns. Both carriers also said the 34% surge in fuel — one of the industry's largest costs — would hurt their quarterly results.
Sheila Kahyaoglu, an analyst at Jefferies LLC, told Bloomberg TV that American Airlines' woes stemmed from jet fuel costs, higher labour expenses and a "degradation" in pricing power.
"American is seeing some impact, but really Southwest and Frontier and Spirit will see more impact," she said.
Discount carriers are adding capacity, outstripping the growth in air travel, she said. Those airlines don't benefit from the strong demand for international demand.
She spoke as American announced the departure of three top executives after it wound down part of its global sales operation. American is now working directly with corporate business customers rather than going through travel agencies or management companies.
American's adjusted earnings per share is now seen at 20 cents to 30 cents, down from an earlier outlook for as much as 95 cents, the carrier said in a regulatory filing. The airline halved its adjusted operating margin outlook to as much as 5%.
Higher fuel prices and the decline in fares has raised uncertainty about the strength of the domestic market, particularly as leisure travelers shifted in large numbers to European trips over the summer.
Some industry executives have said they expect a renewed push after the recent Labor Day holiday to get more workers back in the office full time. This may boost the volume of corporate travel, which remains below 2019 levels for some carriers.