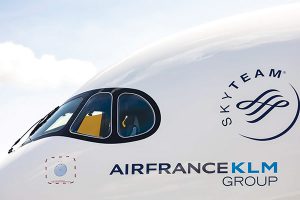 Bloomberg
Air France-KLM has begun a search to replace the head of its Dutch arm in a move that could give Chief Executive Officer Ben Smith a fresh start in improving relations between its two flag carriers.
Shares of the airline group fell as much as 1.8% in Paris on Friday, a day after the group said Pieter Elbers "will not enter into a third term as CEO and president of KLM."
Elbers has had a tenuous hold on the job for some time due to his at-times troubled relations with Smith, who has sought to carry out reforms that would make the French and Dutch sides of the group cooperate more effectively. The KLM chief survived a showdown two years ago only after Smith was handed greater governance powers.
A spokesman for Air France-KLM declined to comment beyond the statement.
While the group said the supervisory board of KLM would start a "thorough process for a successor in a timely manner," it's not clear whether Elbers will finish his term, which ends on May 1, 2023.
In a separate statement from KLM, the executive said he's "handing over the baton" after three decades at the carrier.
French Sway
Air France-KLM has survived the pandemic on successive bailouts from both France and the Netherlands, with the French emerging as the biggest shareholder with a 29% stake. The newfound dominance has gone some way in quelling infighting between the two sides.
The countries and carriers have often been at odds since the 2004 merger of their respective national airlines, with the Dutch arm long resenting French control. Air France also has weaker profitability than KLM and a
history of labor conflict.