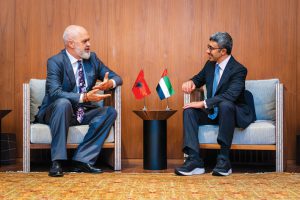 NEW YORK / WAM
HH Sheikh Abdullah bin Zayed Al Nahyan, Minister of Foreign Affairs, has met with Edi Rama, Prime Minister of Albania, on the sidelines of the 78th session of the United Nations General Assembly (UNGA78) in New York. During the meeting, the two leaders discussed bilateral relations and ways to foster them to serve their common interests. They also explored prospects for bilateral cooperation in various fields, including the economy, commerce, energy, and climate.
They reviewed the outcomes of the working visit by Sheikh Abdullah bin Zayed to Tirana, the capital of Albania, in April 2023 and its role in advancing the ties between the two countries in support of their developmental goals.
Furthermore, Sheikh Abdullah bin Zayed and Rama discussed several issues on the agenda of UNGA78, in addition to regional and international developments.
His Highness praised the growing UAE-Albania cooperation in multiple areas. Meanwhile, Rama affirmed the distinguished friendship between the two countries and expressed his country's aspirations to enhance ties with the UAE in various fields.
The meeting was attended by Reem bint Ibrahim Al Hashemi, Minister of State for International Cooperation; and Ambassador Lana Zaki Nusseibeh, Assistant Minister of Foreign Affairs for Political Affairs and UAE's Permanent Representative to the United Nations in New York.