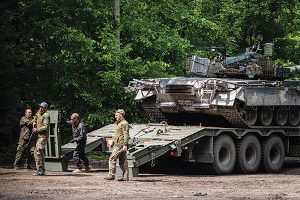 Bloomberg
US President Joe Biden welcomed congressional passage of $40 billion in aid for Ukraine and announced a new package of weapons he said would be sent "directly to the front lines."
A top Kremlin official said
Russia is intent on taking all of the Donetsk and Luhansk regions of Ukraine. The US and United Nations are looking at ways to help Ukraine ship its grain by rail to a port in Lithuania, the Wall Street Journal reported, in the face of a global grain crunch caused by the war.
Nato's secretary general said he was hopeful applications by Finland and Sweden to join the bloc could soon be accepted despite initial opposition from Turkish President Recep Tayyip Erdogan.
Russian tycoons are skipping the Balearic Sea — best known for the resort islands of Majorca and Ibiza — to avoid having their megayachts seized.
Just one vessel tied to a sanctioned Russian tycoon was
spotted in the region this spring after Russia invaded Ukraine and sanctions were imposed, according to an analysis for Bloomberg News by Spire Global Inc, which provides maritime intelligence data. Wildfires near the Chernobyl nuclear power plant don't pose a radioactive threat, Ukraine officials told the International Atomic Energy Agency, its director general Rafael Mariano Grossi said in a statement. The agency agreed with Ukraine's assessment.
Last week, Ukraine reestablished full remote transmission of safeguards data from Chernobyl, after two months of interruption caused by Russia's invasion.
The US and United
Nations Secretary-General Antonio Guterres are reviewing plans for the possible export of Ukrainian grain by railway through Belarus to the Lithuanian port of Klaipeda, the Wall Street Journal reported, citing unidentified US officials. The US may offer a six-month sanctions break on Belarus's potash fertiliser industry, the newspaper said.
Belarus's main potash producer, which accounts for about a fifth of global supply, was
hit with US sanctions last year
to limit the financial benefits
that President Alexander Lukashenko's regime derives from exports. The Biden administration announced $100 million in military assistance to Ukraine including artillery, radar and other equipment ahead of the $40 billion Ukraine aid package sent to him by Congress.
Biden said the package will "allow us to send even more weapons and ammunition to Ukraine, replenish our own stockpile and support US troops stationed on Nato territory."
The Pentagon said the equipment will include 18 155MM howitzers, their carriers and
three counter-artillery radars. Defense Department spokesman John Kirby said the artillery is proving "critical" equipment for Ukrainian forces. He said the $100 million exhausts existing "drawdown" authority from US stockpiles.
The latest shipments will bring the total amount of US military assistance provided to Ukraine since Russia's invasion to $3.9 billion. Ukraine received 504 million euros ($534 million) in grants from the World Bank, the country's finance ministry announced.
Funds, which include $500 million from the US and 24 million pounds ($30 million) from the UK, will be used to help cover social, humanitarian and healthcare spending and support for internally displaced people, the ministry said.