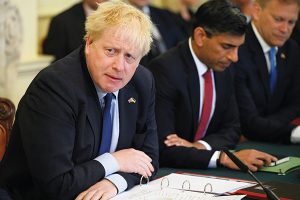 Bloomberg
Boris Johnson describes the failed bid to remove him by rebels in his Conservative Party this month as a "fresh mandate" to carry on. That has frustrated his critics, who are now seeking alternative ways to oust him.
Much of the focus is again on the 1922 Committee of rank-and-file Tory MPs, which oversaw the confidence vote three weeks ago narrowly won by Johnson. Under current rules, he is safe from another challenge for 12 months.
Yet the so-called '22, which gains its name from a meeting of Tory lawmakers 100 years ago that ultimately brought down a coalition government, plans to hold elections for the 18 positions on its executive committee in the next three weeks. Some rebels see that as a chance to flood the committee with MPs who want to change the regulations to allow a fresh confidence vote.
Their argument hinges on the idea that given 41% of Tory MPs voted against him this month, there may now be a majority in favor of changing leader since the Conservatives lost two Parliament seats— including a district they had always held — in separate elections last week.
But there are several obstacles, not least the fact that even some prominent rebels —including David Davis and Roger Gale — have argued that while they want the prime minister to resign, it would not be fair to change the rules.
This story is based on conversations with Tory MPs and officials, who asked not to be named discussing private deliberations.
Leadership Challenges
Johnson's allies, meanwhile, have been pointing out that such a change would hamper future Conservative leaders, who would be under constant threat of a leadership challenge if confidence votes were allowed more often.
Other Tories say the 1922 executive committee can already change its rules if it became clear there was a groundswell of opinion in favor of doing so —but that that is not the case. That makes the upcoming elections less significant than the broader question of what the majority of the Tory party wants. The problem for the rebels is their options are limited. In the short-term, time is increasingly on Johnson's side with Parliament's summer holiday starting late July. Plotters will be at a distance from each other and Westminster.
Johnson's position has also been bolstered since the two elections losses due to the reaction of his cabinet, none of whom followed Conservative Party Chairman Oliver Dowden in resigning.
There's a view among the rebels that no senior minister with ambitions wants to risk undermining Johnson, for fear of hurting their own prospects in a bid for the leadership or position in a future cabinet.
That forms the backdrop to the recent speculation about the rebels' potential next moves. Tory MPs Caroline Nokes and Dehenna Davison ridiculed reports over the weekend that some rebels are planning to defect to opposition parties.
Of course, that doesn't mean Johnson is in the clear. Some Tories are looking to the Parliament inquiry into whether he lied to MPs over the illegal parties held in Downing Street during the pandemic, a scandal that lies behind many of the problems he faces. That may report in October.