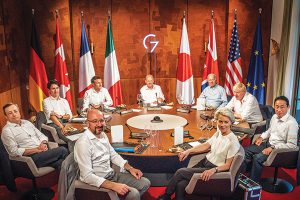 Bloomberg
When Group of Seven leaders gathered in the Bavarian Alps in June, they pledged to stand with Ukraine for the long haul.
Their Group of 20 counterparts are proving less supportive. Comprising nations that account for some 85% of global economic output, the G-20 is supposed to be more reflective of the world. Yet only half its number has joined the international sanctions imposed on fellow member Russia over its invasion of Ukraine.
Senior officials from the smaller group of wealthy nations have been traveling the world to make the case for a tougher economic net around Russia. They've been surprised by the lack of sign-on from G-20 states, even if those countries aren't going out of their way to help Moscow circumvent the penalties.
It's an uncomfortable reality confronting Secretary of State Antony Blinken during his extended tour of Southeast Asia and Africa: Much of the world isn't ready to follow US and European efforts to isolate President Vladimir Putin's Russia.
That makes agreement on global initiatives such as a cap on Russian oil prices as proposed by the G-7 even more challenging, while emboldening Putin and his key supporter, Chinese President Xi Jinping, in pursuing their respective global agendas.
The biggest opt-out is China. Xi joined hands with Putin and declared a "no limits" friendship just weeks before Russia invaded Ukraine. China's outlays on Russian oil have soared since the war's outbreak — it spent 72% more on Russian energy purchases in June from a year earlier.
China is in any case locked in a rivalry with the US, with tensions spiking this week over House Speaker Nancy Pelosi's visit to Taipei, and in its own dispute with the G-7 after the bloc issued a statement expressing concern about Beijing's "threatening actions" around Taiwan.
A face-to-face meeting planned between the foreign ministers of China and G-7 member Japan this week in Cambodia has been called off by Beijing. Japan said late Thursday that some ballistic missiles fired by China during drills near Taiwan had landed in its exclusive economic zone — the first time that had happened — and lodged a diplomatic protest.
But Beijing is far from alone in rejecting the pleas to rein in the Kremlin. Indian Prime Minister Narendra Modi spoke over the phone with Putin on July 1 and discussed how trade could be built up. Luiz Inacio Lula da Silva, the frontrunner in Brazil's presidential race, laid the blame for the war on Ukraine as much as Russia.
In South Africa, President Cyril Ramaphosa criticized US-led sanctions. Turkey concluded that penalizing Russia would be detrimental to Ankara's economic and political interests, according to a senior official, who cited a $35 billion hit from higher energy costs and the impact on tourism.
Economic imperatives are one reason for the reticence among what is often termed the Global South. But there are others, including historic affinities to Moscow, concerns at signs of US disengagement and a distrust of former colonial powers that fuels a sense of hypocrisy.
There are parallels with China and the US-led efforts to create a coalition of democracies against Beijing.