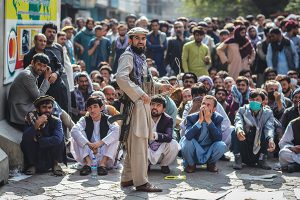 Bloomberg
The Taliban government urged major Islamic nations to push the US to call off sanctions imposed on Afghanistan, saying the actions are exacerbating the refugee crisis and hurting its people.
The freezing of Afghan assets by the US is in violation of human rights, while the suspension of development assistance by the International Monetary Fund and the World Bank has affected health, education and social services, according to acting Foreign Minister Mawlawi Amir Khan Muttaqi.
The US in August froze nearly $9.5 billion in assets belonging to the Afghan central bank and stopped shipments of cash to the nation. Central bank assets that the Afghan government has in the US will not be available to the Taliban.