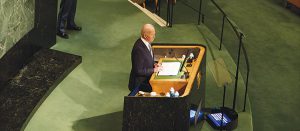 When Indonesia's Joko Widodo visited Ukraine and Russia this summer, Foreign Minister Retno Marsudi explained the president was "choosing to try to contribute, instead of choosing to be quiet." And yet now, with the world at a perilous juncture, he has bafflingly chosen silence.
Jokowi, as the president is known, is once again sitting out the United Nations' General Assembly, the annual marquee event of global diplomacy. This year, it's an inexcusable absence.
Granted, he is not the only missing leader. China's Xi Jinping, weeks away from a party congress that will anoint him for a precedent-breaking third term, is staying home, as is Indian PM Narendra Modi. Nor is the non-attendance out of character for Jokowi, who has long put domestic policy first, and in close to eight years in office has addressed the UN gathering only when pandemic restrictions allowed remote interventions.
But this is not a routine meeting. Trust among global powers is at a low, and
the world is grappling with compounding crises, most immediately with the fallout from Russia's assault on Ukraine that has been particularly punishing for the emerging world, with rising fuel and food prices, and the menace of broader instability. Moscow is threatening to torpedo a deal allowing grain exports to flow. It's the disaster Jokowi supposedly sought to fix with his travels back in June.
It's also happening at what may be a turning point for the war, as losses of men and materiel pile up for Russia, while China and India — who initially embraced what might be called pro-Russian neutrality — begin to signal displeasure. The pressure is having an impact on Russian President Vladimir Putin, now struggling to find a way out of this debacle of his own creation. (Moscow has announced votes in occupied territories and a partial mobilisation.) Indonesia too has clout, as Russia needs large, populous, fuel-importing economies to avoid isolation.
Nor is it a run-of-the-mill year for Jokowi himself, nearer the end than the beginning of his time in office, and thinking about his legacy. He holds the presidency of the G-20 and will host world leaders — including, supposedly, Putin and his Ukrainian counterpart Volodymyr Zelenskiy — for the year's banner get-together in Bali, before taking the chairmanship of
the Association of Southeast Asian Nations next year. Indonesia is, as Jokowi put it last month, at the "pinnacle of global leadership."
So why isn't the Indonesian leader in New York?
Jokowi's distaste for geopolitical theatre is well-known, especially compared with his predecessor, Susilo Bambang Yudhoyono, and while his personal appeal has opened doors overseas, he has tended to focus on investment benefits. In analyst and former journalist Ben Bland's book 1 on the Indonesian leader, a Jakarta official puts it well: "Jokowi's view would be, why do I have to go to the United Nations, there's no money there and in fact we have to pay them." An inward-looking approach not so unusual, as Bland, now at Chatham House in London, points out, in the context of Southeast Asia today.
—Bloomberg