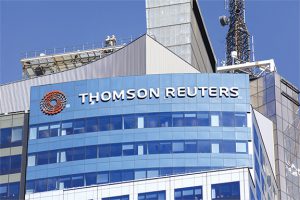 Bloomberg
Thomson Reuters Corp. journalists in the US launched a daylong strike on Thursday, first walkout in decades among the media company's long-unionised staff.
Employees began a 24-hour strike after claiming the company didn't fairly negotiate pay increases, according to the Communications Workers of America's NewsGuild, which represents US-based Reuters reporters, photographers and video journalists. The group said about 90% of the 300 or so Reuters employees it represents agreed to participate.
The news organisation proposed a three-year contract with guaranteed annual pay increases of 1%, according to the union, which would erode employee spending power against a backdrop of 9% inflation. Members of the guild believe Reuters managers aren't working with them in good faith, and have also filed a complaint with the US National Labour Relations Board. They join an expanding group of media workers that have recently pushed back against what they characterise as unfair treatment by their employers.
"In 2020 we were all asked to step up," said energy reporter Tim McLaughlin, a member of the union's bargaining committee. "Everyone just rose to the occasion, and we thought – wrongly as it turns out – that we would get something in return."
In an emailed statement, Reuters said it was "fully committed to constructive negotiations with the NewsGuild" to reach a contract. "These conversations are ongoing and we will continue to work with the Guild committee to settle on mutually agreeable terms," a spokesperson said. The company also said it offers "salary and benefits that are among the best in the journalism industry, including a competitive annual merit-based wage program that all Guild members participate in."
Reuters employs around 2,500 journalists in close to 200 cities total, according to its website. The guild represents employees at outlets including the Washington Post, Politico, and Bloomberg LP's subsidiary Bloomberg Industry Group. Bloomberg LP, parent of Bloomberg News, competes with Reuters as a provider of financial news and services.
The Reuters strike comes amid a wave of increased activism and organising among media workers.