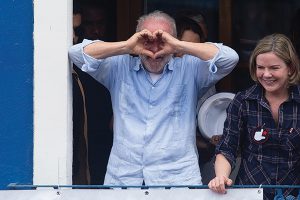 Bloomberg
Luiz Inacio Lula da Silva rolled into the final week ahead of Brazil's presidential election, with one poll showing he has the support for a first-round win while another has him inching ever closer to an outright victory on Sunday.
Front-runner Lula would take 52% of valid votes, while incumbent President Jair Bolsonaro would take 34% both unchanged from a week ago, according to a survey from Ipec published Monday evening.
Earlier in the day, a poll released by FSB Pesquisa showed Lula taking 48% of valid votes in the first round from 47% previously. Boslonaro held steady at 37%, the poll found.
If a candidate doesn't take more than 50% of the ballot on Oct. 2 after removing both null and blank votes, the race will go to a runoff on Oct. 30.
Lula's advance fell within the FSB Pesquisa poll's two percentage-point margin of error, but it added to evidence found in a slew of recent surveys showing the former head of state gaining steam. Only about 2% of voters have yet to pick a candidate, though FSB Pesquisa found some 20 million could switch their preference at the last-minute.
"The number of voters who are still willing to change their voting decision in this final stretch is enough to change the outlook, which today points to a second round," Marcelo Tokarski, director of the polling firm, wrote in a statement.
Candidates other than the current and former president hold 14% of voter preference combined in the first-round, the poll found.
Final Push
After sitting out the most recent televised debate, Lula spent Sunday stumping through Rio de Janeiro, the nation's second-largest city and a base of support for Bolsonaro, as part of a final push to peel votes away from the incumbent.
But Andrei Roman, the head of AtlasIntel, cautions that support for Lula, 76, may have peaked. The pollster also placed the former president garnering around 48% of support in the first round, according to its latest public survey released last week.
Support for third- and fourth-placed candidates, Ciro Gomes and Simone Tebet, is "collapsing," Roman said in an interview. "What we are seeing is angst around Lula winning in the first round."
Gomes, a left-wing former governor, has made nods to conservative voters, and more of his backers are now migrating to Bolsonaro, Roman said. While not a majority, "there is a sizable share that is opposed to Lula."
Even so, Atlas has doubled the odds that Lula wins in the first round, raising chances to 30% from 15% from a month ago.
Analysts are closely watching how Brazilians will react to the final presidential televised debate slated for Thursday evening. Both Bolsonaro, 67, and Lula have said they will attend.
The FSB poll, commissioned by investment bank BTG Pactual, interviewed 2,000 Brazilians between Sept. 23 and 25. Ipec spoke with 3,008 people on Sept. 25 and 26. The Ipec poll had a margin of error of plus or minus two percentage points.