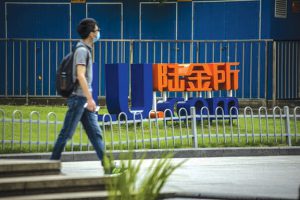 Bloomberg
Fintech firm Lufax Holding Ltd is planning to go public in Hong Kong, the latest in a wave of New York-traded Chinese companies seeking alternative listings to hedge against the risk of being banned from US markets.
The Ping An Insurance Group Co-backed company aims to file for a listing in Hong Kong as soon as the second half of this year, according to people familiar with the matter, who asked not to be named because the information is private. The discussions are preliminary and could be subject to change, the people added.
Lufax's preparations follow the delisting announcements of a slew of state-owned companies, as well as earlier moves by other Chinese tech giants to add secondary or primary listings in Hong Kong. Businesses that have data deemed sensitive by Beijing could be forced to leave US exchanges, as the two countries struggle to come to an agreement allowing American regulators to inspect audits of Chinese businesses.
Lufax said in a statement that it has explored a potential listing on the Hong Kong stock exchange without setting a timetable, declining to comment further. Lufax's shares rose as much as 3.5% in US premarket trading, while other Chinese stocks including Alibaba Group Holding Ltd's fell.