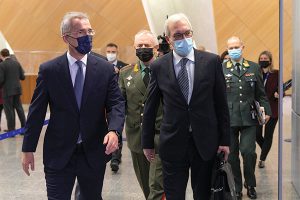 Bloomberg
Russia won't wait "endlessly" for a security deal with Nato and progress depends on the US, Foreign Minister Sergei Lavrov said Friday, keeping up pressure after a week of high-level talks with the West failed to yield noticeable progress.
"We're waiting for written responses from our colleagues" in the US and the North Atlantic Treaty Organization, Lavrov told reporters at a Moscow news conference. "I would like to stress above all that we need legally-binding guarantees because political commitments made in the 1990s were never respected by our Western partners."
The Kremlin remains on a collision course with the US and its European allies over a mass buildup of Russian troops near the border with Ukraine. The US is putting pressure on Europe to agree on potential sanctions amid concerns President Vladimir Putin could soon invade Ukraine, according to people familiar with the discussions. Russia denies it plans any invasion of its neighbor.
The ruble fell further after a 2.3% decline on Thursday amid fears the talks had failed. It traded down 0.4% at 76.6875 per dollar as of 2:55 pm in Moscow, the worst performance on the day in emerging markets.
Meetings this week between Russia and the US and Nato failed to shed light on Moscow's intentions. Russia hasn't committed to continue talks so far. Nato has rejected Russia's demands that the military alliance rule out future membership for Ukraine and other ex-Soviet states, and that it withdraw forces to positions they held in 1997.
Putin's warning last month of "military-technical response measures" if the West moved forces into Ukraine meant Russia is ready to deploy equipment to counter hostile moves near its borders, Lavrov said.
"I wouldn't look for a hidden meaning," he said. "We always respond to threats that are created to Russian security."
The U.S. has indicated that it will give an answer to the Russian proposals within a week, according to Lavrov. Moscow told American negotiators that they can not pick and chose which parts of the package they respond to, he said.
While Washington rejects giving Russia a veto over Nato membership, US diplomats say they are willing to discuss bilateral issues including the size and scope of future military exercises and the placement of intermediate-range missile systems in Europe. The US withdrew from a treaty regulating such weapons in 2019.
"We're certain that with good will, a willingness for compromise, that it's always possible to find a mutually-acceptable solution," Lavrov said.