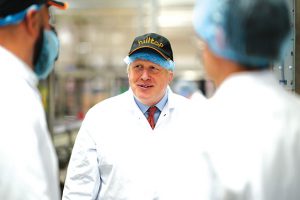 Bloomberg
Boris Johnson didn't use a meeting with a top civil servant to try to influence her report about illegal parties held at the centre of government during the Covid-19 pandemic, said Education Minister Nadhim Zahawi.
Sue Gray is expected to release her report into what the UK media has dubbed "partygate," a scandal that's dogged the prime minister's administration for months and almost ended his political career.
Johnson received one of the more than 100 fines issued by police for violations of lockdown rules over the gatherings. Gray's report
is expected to shed more light on how aware senior government officials were about breaching the restrictions they'd imposed on the public. "The prime minister does not, did not and would not ever intervene in this
report," Zahawi said on Sky News.
Zahawi repeatedly declined to say who initiated the meeting between Johnson and Gray that was first reported by Sky. Johnson's office and Gray's spokesman each denied organising the briefing, Sky reported.
"The important thing to remember is that Sue Gray has been able to go wherever the evidence takes her," he said.
Gray's report was long seen as the likely moment of maximum peril for Johnson, when the full scale of law-breaking — and crucially, the level of his own knowledge and involvement — would be laid bare.
Many of Johnson's Conservative Party critics said they would wait for the outcome of the probe before deciding if they still wanted him as leader.