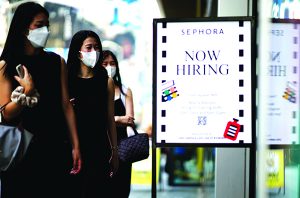 Bloomberg
Applications for US state unemployment insurance unexpectedly rose last week to the highest level since January, led by increased filings in Kentucky and California.
Initial unemployment claims increased by 21,000 to 218,000 in the week ended May 14, Labour Department data shows. The median estimate in a Bloomberg survey of economists called for 200,000 initial applications.
Continuing claims for state benefits dropped to 1.32 million in the week ended May 7, the lowest since 1969.
While the continuing claims figures underscore a still-solid labour market, a sustained increase in initial applications could signal some softening. As the Federal Reserve tightens monetary policy more aggressively to rein in rampant inflation, higher interest rates are expected to cut demand for labour.
"The level of claims remains relatively low — indicative of tight conditions in the labour market — but is creeping higher, signalling some moderation in net hiring ahead," said Bloomberg economist Eliza Winger.
On an unadjusted basis, filings rose by more than 6,700 in Kentucky and climbed 3,315 in California. Pennsylvania, Illinois and Ohio also showed increases of more than 1,000.