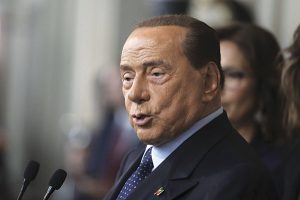 Bloomberg
Media mogul Silvio Berlusconi pulled out of the running for Italy's presidency shortly before voting starts, strengthening the prospect that Prime Minister Mario Draghi could be elected as head of state.
Italy's longest-serving postwar premier, Berlusconi, 85, announced his decision in a statement as his Forza Italia party held a virtual meeting with fellow leaders of the center-right Matteo Salvini, of the anti-migrant League, and Giorgia Meloni of the far-right Brothers of Italy. Berlusconi said that Italy today needs unity to combat the coronavirus pandemic, and that he wanted to avoid his name triggering division.
Financial markets are watching the euro area's third-largest economy as the parliamentary ballot that starts on Monday could trigger political uncertainty and an early general election. Berlusconi had been canvassing lawmakers ahead of the presidential ballot, but failed to find sufficient backing. His own allies had offered only lukewarm support, with Salvini saying that he would be ready to back another unidentified candidate Draghi, who heads a wide-ranging coalition, benefits from Berlusconi's move as the most high-profile figure to succeed President Sergio Mattarella.