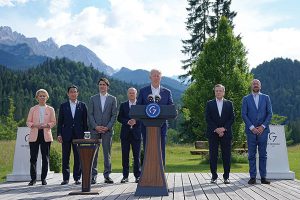 Bloomberg
Group of Seven nations agreed to stick by Ukraine to the bitter end and ratchet up the cost to Russia of its aggression, while leaving much of the detail of how to do so unresolved.
At the conclusion of a G-7 summit in Germany, leaders stressed their "unwavering commitment" to the government and people of Ukraine, and made clear their determination to make Vladimir Putin pay for his invasion.
"We will continue to impose severe and immediate economic costs on President Putin's regime for its unjustifiable war of aggression against Ukraine," the G-7 said in their final statement released Tuesday.
After three days of deliberations in the Bavarian Alps that were dominated by the war and its global fallout, the leaders pledged to step up efforts on global energy and food security, and to stabilise economies still recovering from the Covid-19 pandemic. Chancellor Olaf Scholz called it "an important summit in extraordinary times."
But the means of tackling their shared challenges, including a proposed cap on Russia oil prices, remained largely aspirational.
Exploring options
There were strong words of condemnation for Moscow compounding food insecurity, and an additional $4.5 billion was announced for those most at risk of hunger and malnutrition. Yet leaders were only able to "reiterate our urgent call upon Russia" to end its blockade of Ukraine's Black Sea grain ports that are at the root of the problem.
Oxfam said the conclusion was a failure that "will leave millions to starve."
India was one of several partner nations invited to the summit, but there was little sign of Prime Minister Narendra Modi changing his stance to criticize the Kremlin for launching war on its neighbour, or of him putting a halt to Indian purchases of cheap Russian oil.
While expressing concern about the burden of energy price increases and energy market instability, G-7 nations agreed only to "explore additional measures to reduce price surges and prevent further impacts on our economies and societies."
That included a plea to "encourage producer countries to increase their production" of oil, and plans to "seek to develop solutions that meet our objectives of reducing Russian revenues from hydrocarbons."
On the oil cap, a proposal advanced by Italian Prime Minister Mario Draghi and taken up by US Treasury Secretary Janet Yellen, leaders agreed to "consider a range of approaches."
Those include "options for a possible comprehensive prohibition of all services, which enable transportation of Russian seaborne crude oil and petroleum products globally, unless the oil is purchased at or below a price to be agreed in consultation with international partners," according to the closing statement.
French President Emmanuel Macron hailed the oil cap as a good idea and advocated a cap on Russian gas, too, but said that the challenge of implementing it is technical. Ministers were not instructed to flesh it out so much as told "to continue to discuss these measures urgently." Yellen welcomed the conclusions as a "significant step" regardless, adding that the US will work with allies to advance the efforts.
On gas, G-7 leaders acknowledged their own vulnerabilities that have been exposed by the war and Europe's rush to find alternatives to Russian supplies.