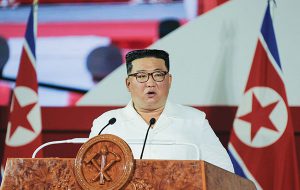 Bloomberg
North Korea fired a short-range ballistic missile, marking a return to provocations with US Vice President Kamala Harris due to arrive in the region and as an American aircraft carrier group prepares for naval exercises with South Korea.
The launch on Sunday was its first since shooting off its single-day record of eight at the start of June. At least one short-range ballistic missile was fired from Taechon, about 100 kilometers (60 miles) north of Pyongyang, towards waters off its east coast, South Korea's military said.
The missile reached an altitude of about 60 kilometers and flew about 600 kilometers, its Joint Chiefs of Staff said. Japanese Defense Minister Yasukazu Hamada said it splashed down outside of the country's exclusive economic zone after flying on an unusual trajectory.
The flight path provided by South Korea would be consistent with a North Korean short-range ballistic missile. The launch comes as the USS Ronald Reagan aircraft carrier group arrived in South Korea to stage its first combined naval exercises in about five years later this week.