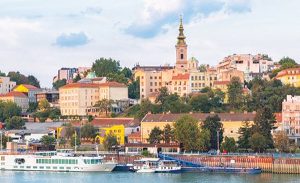 Bloomberg
The European Union (EU) agreed to broaden accession talks with Serbia, the largest of the six Balkan countries aspiring to join the bloc, reviving a process that had shown little progress for two years.
None of the Balkan aspirants are expected to join the bloc before 2025 at the earliest, as enlargement fatigue and a decade of crises in the EU has engendered reluctance among some members about accepting newcomers.
"Serbia is taking yet another important step forward to joining the European Union," Enlargement Commissioner Oliver Varhelyi said in Brussels.
EU-brokered talks on mending the ties, a key condition for accession, have stalled for years.