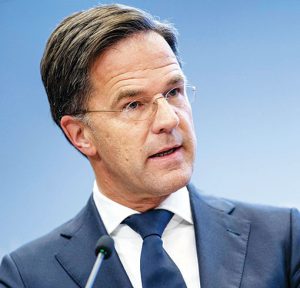 Bloomberg
Prime Minister Mark Rutte reached a coalition deal nearly nine months after the Dutch general election, marking the longest negotiations in the nation's history.
Rutte, who is expected to be named prime minister once again, presented the agreement between his Liberal party and three partners in the hall of the Dutch parliament building in The Hague.
"It took long, too long, but we have reached a good agreement," Rutte said.
The government is likely to formally take office in January.
Rutte's party, known as the VVD in Dutch, has 34 lawmakers following the March election, making it the largest in the 150-seat lower house. The pro-European group D66 will be the second largest in the coalition with 24 seats.
Rutte, who was first elected as prime minister in 2010, will become the Netherlands's longest-serving prime minister if he sees out his fourth term, eclipsing Ruud Lubbers, who governed for 12 years. He is already the second longest-serving European Union leader, after Hungary's Viktor Orban.
Traditionally, the No. 2 party in a Dutch coalition takes the finance ministry, so Christian Democrat Wopke Hoekstra, a budget hardliner, is likely to lose his job as finance minister. That post will most likely be claimed by Sigrid Kaag's D66, which has advocated closer ties with France and Germany. That change could signal a shift in the Dutch position in crucial EU debates.