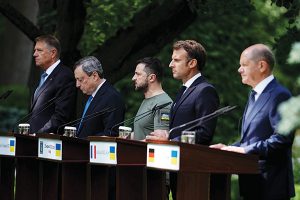 Bloomberg
Italy's biggest party is set to splinter over the country's support for Ukraine, just as Prime Minister Mario Draghi defended in parliament his government's stance on the conflict.
Foreign Minister Luigi Di Maio may soon quit the Five Star Movement and set up a new parliamentary group of his own, in a clash with party leader Giuseppe Conte, according to people familiar with the issue who declined to be named on a confidential matter.
Di Maio, 35, favors Draghi's plan to continue providing military support to Ukraine, while Conte is opposed. Di Maio would remain foreign minister even if he leaves Five Star, one of the people said.
"The Italian government, together with EU and G-7 partners, intends to continue to support Ukraine as this parliament has told us to do," Draghi said in a speech to the Rome Senate ahead of the June 23-24 summit of European Union leaders in Brussels. "Sanctions are working, and are more and more effective," he added. Group of Seven countries will meet in Germany this weekend.