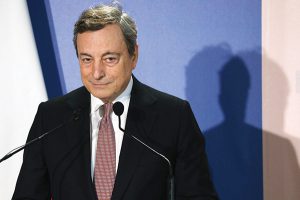 Bloomberg
Mario Draghi is facing the biggest coalition turmoil since he became Italy's prime minister in 2021, just as he sets out for a week of back-to-back international summits that will focus on Russia's war in Ukraine.
Foreign Minister Luigi Di Maio, one of the highest-profile members of Draghi's cabinet, on Tuesday acrimoniously quit the Five Star Movement that he once led following a weeks-long clash with current party leader Giuseppe Conte over Italy's military support to Ukraine.
While the snap move does not threaten Draghi's support in Parliament, it does change the balance of power in his broad coalition with Matteo Salvini's League now becoming the biggest party in the alliance. That could in turn make it harder for Draghi, who became premier in February 2021.