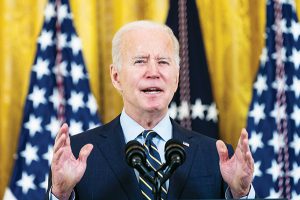 Bloomberg
The indefinite delay of President Joe Biden's signature domestic policy bill has derailed the Democrats' strategy to stave off a Republican onslaught in the 2022 congressional elections and the party may be left without a fallback option.
After renewed objections from Senator Joe Manchin to the structure of the Build Back Better measure, Democratic leaders in the Senate announced that a vote
previously expected before Christmas would now be punted into next year, a decision some strategists fear could prove fatal to the legislation's prospects.
Even if it is signed into law in the new year, the delay leaves less time for party groups and candidates to get the word out about what it does, a cornerstone of the Democrats' plan as polls show voters aren't sure what is in the bill and don't think that it will help them directly. Democratic strategist Dave Heller said that the party must pass at least a slimmed-down version of Build Back Better to remain competitive, preferably one with easy-to-explain benefits like a cap on the cost of insulin or the expansion of pre-kindergarten programs.
"We have to run on something," he said. "We can't have complete control for two years and say our biggest accomplishment was an infrastructure bill."
The debate is taking on extra urgency with Democrats facing an uphill battle to defend their House and Senate majorities next year.
Republicans are poised to seize on inflation, the persistent coronavirus pandemic and Biden's foreign policy missteps — all of which have dragged down his numbers. Twenty House Democrats have announced they won't seek re-election, leaving open seats, while key states are drawing district maps that heavily favour the GOP and a natural advantage to the minority party in midterms.
To complicate matters, the Build Back Better bill is an omnibus of almost all of Biden's domestic legislative agenda, which makes it harder to sell than a smaller, more straightforward policy measure. Also, some of the easier-to-explain ideas, like free community college or expanding Medicare to cover dental procedures, have been dropped because of concerns about costs from centrist Democrats.
Even previous victories are in perilous shape. Senate Democrats will now miss an end-of-the-year deadline to extend a child tax credit that has been paid out in monthly installments over the last year. Even though one study showed it cut the child poverty rate by 25% over the last year, in recent polls many Americans have said they aren't sure whether they received the credit, think it only helped their family a little or don't know which party is responsible for it.
Party strategists have long planned to spend the next year focusing on how the Build Back Better bill will help with family budgets.
Sharon Yang, a spokeswoman for Building Back Together, a Democratic group supporting the Biden agenda, said that as soon as the president signs a bill, they will double down on advertising and other efforts to promote it. She remained optimistic that despite the delay, Democrats would come together on some version of the legislation next year, creating a contrast with Republicans who uniformly oppose it.