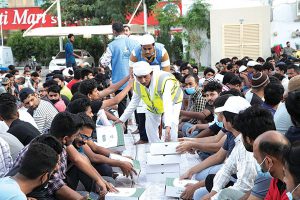 Dubai / WAM
Dar Al Ber Society spent more than AED206, 541,000 during the first half of 2022, benefitting 2.9 million people worldwide through charitable and sustainable development projects.
The number of projects reached 22,517 inside the UAE and in several regions around the world.
Dr Muhammad Suhail Al Muhairi, CEO and Managing Director of Dar Al Ber Society, indicated that the new charitable development projects were distributed among 8,901 projects that started in first quarter of this year, valued at AED50,208,678, compared to 13,616 projects in the second quarter, at the cost of AED51,894,504, indicating the completion of some of those humanitarian development projects, while others are still under construction and will be completed according to the time plan set for them.
Dr Al Muhairi pointed out that during the first six months of this year, the society built 2,144 mosques, 904 in the first and 1,240 in the second quarter. There were 8,121 water-saving projects, of which 3,252 were in the first quarter and 4,869 in the second. There were also 3,433 charitable endowment projects, of which 1,344 projects were in the first three months of this year, and 2,079 were during April, May and June.
There were 4,929 projects for productive families, of which 2,016 were in the first quarter, and 2,913 were in the second. The number of medical projects in the first half reached 5,285, of which 1,385 were in the first quarter and 2,515 in the second.
Dar Al Ber also implemented its seasonal projects in 37 countries in Asia, Africa and Europe, in cooperation with 32 associations of the Society's partners in those countries.
Dar Al Ber, represented by the Department of Zakat in the Projects and Zakat Sector, provided local aid during the first half of 2022, amounting to AED42,751,555 for 346,541 beneficiaries.