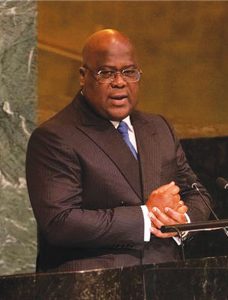 Bloomberg
Democratic Republic of Congo's President Felix Tshisekedi excoriated Rwanda for alleged incursions by its army and its support for a rebel group in his country's eastern region in a wide-ranging speech at the United Nations General Assembly.
Tshisekedi cited a report by UN experts that accuses Rwanda of backing the M23 rebel group, which occupies a small part of eastern Congo. Rwanda denies links to the violence, which the UN says has led to the displacement of more than 170,000 people since November.
The president urged world leaders to read the experts' report and "no longer trust the shameless denials of the Rwandan authorities."
Eastern Congo has suffered decades of conflict since the 1990s, when violence from the aftermath of Rwanda's civil war and genocide spread across the border. More than 100 rebel groups are currently active in the region, which is rich in gold, tin, timber and other resources.
"Any honest observer in good faith recognizes that this crisis is caused mainly by the greed aroused by our fabulous natural resources and the power ambitions of some of our neighbors," Tshisekedi said.