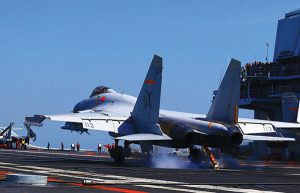 Bloomberg
China sent its third-largest sortie of warplanes towards Taiwan this year, after the US rejected Chinese claims over the Taiwan Strait and reports of arms sales talks with Taipei in Washington.
Twenty-nine Chinese aircraft, including six H-6 bombers and an electronic intelligence gathering plane, entered Taiwan's southwestern air defense identification zone Tuesday, according to a tweet from the Ministry of National Defense in Taipei.
Taiwanese Foreign Minister Joseph Wu wrote on Twitter that the latest incursion showed China's military threat was "more serious than ever."
"But there's no way #Taiwan will cave in & surrender its sovereignty & democracy to the big bully," he added. The deployment of warplanes was the largest since May 30, when 30 People's Liberation Army aircraft buzzed the island as US Senator Tammy Duckworth led a three-day trip to Taiwan. Before that, China conducted 39 flights on January 23 — the most so far this year — a day after the US and Japanese held a joint naval exercise in the Philippine Sea.
The latest flights follow reports the Biden administration has decided to reject a vague new assertion by China that the Taiwan Strait is not "international waters," amid concerns the stance could result in more frequent challenges at sea for the democratically governed island. State Department Spokesman Ned Price reiterated at a Tuesday press briefing that the US believes "the Taiwan Strait is an international waterway."
"We're concerned by China's aggressive rhetoric, its increasing pressure and intimidation regarding Taiwan," he added, "and we'll continue, as we have said before, to fly, to sail, and to operate wherever international law allows, and that includes transiting through the Taiwan Strait."
Separately, Taiwan and US officials are convening in Washington this week to discuss arms sales in meetings traditionally characterized as "monetary talks," the Taipei-based United Daily News reported citing unidentified people. Taiwan National Security Council secretary-general Wellington Koo was set to meet US defense officials, the publication added.
Chinese Foreign Ministry spokesman Wang Wenbin urged the US to stop selling arms to Taiwan on Wednesday at a regular press briefing in Beijing. "We consistently and firmly oppose US official interactions and arms sales to, and military interactions with, Taiwan," he added.
China has ramped up military, diplomatic and economic pressure on Taiwan's ruling Democratic Progressive Party.