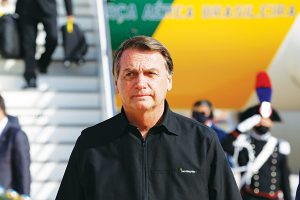 Bloomberg
Pressure is piling on President Jair Bolsonaro to provide more financial aid to Brazilian states affected by heavy rains that have left several cities underwater and thousands of people homeless.
The president, who's vacationing at a beach in the south of country, published a decree setting aside 200 million reais ($35.5 million) to rebuild highways and roads destroyed by flooding in the states of Amazonas, Bahia, Minas Gerais, Para and Sao Paulo.
But even leaders of centrist parties that support him in congress have said more needs to be done. Lower house Speaker Arthur Lira, a close ally of the president, told reporters that the amount disbursed so far is "insufficient." Brazilian celebrities are also urging Bolsonaro to take further action. The president has so far maintained his holiday schedule.
"I hope I don't have to return home before planned," he told a group of beach-goers he met during his time off, according to a video posted on social media.
The most critical situation is in the northeastern state of Bahia, where weeks of torrential rain caused two rivers to overflow and bust through two dams over the Christmas weekend. Twenty-one people have died, 77,000 are homeless, and a total of 470,000 affected, according to the civil defense force. The state is recording the highest accumulated rainfall for December in 32 years, and another ten dams there are being monitored for risk of rupture.