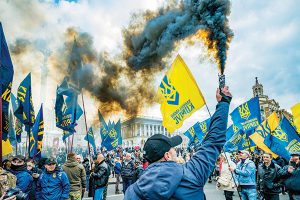 Bloomberg
Leading nations of the European Union (EU) are resisting a push to quickly draw up specific sanctions and other punishments to impose on Russia if it invades Ukraine, even as the Kremlin shows no sign of backing off a massive troop buildup near its neighbour.
Germany, France, Italy and Spain want to focus now on talking to Moscow before laying out details of painful economic measures they'd trigger. But other member states argue that backing up the public threats of sanctions would better deter Russian President Vladimir Putin, according to senior diplomats and officials who spoke on condition of anonymity.
The divisions underline the challenges the US and its allies face in mounting a coordinated response to prevent Russia from mounting an attack. They also reflect skepticism in some European capitals about Washington's warnings over the last few weeks that Russia is actually preparing for a major assault on Ukraine and not simply using the troop buildup as a bargaining chip to win concessions.
"We want to be on this prevention-mode, that is the work of diplomacy, to try to study the different scenarios to have an answer prepared for each one of them, and making clear there will be an answer for any one of them if they happen," EU foreign policy chief Josep Borrell told lawmakers in Strasbourg.
EU leaders will discuss the issue in Brussels during two days of summits and bilateral meetings, including with Ukrainian President Volodymyr Zelenskiy.
A string of western leaders, including US President Joe Biden, French President Emmanuel Macron and German Chancellor Olaf Scholz have spoken to Putin in recent days to deliver the message that the West would impose much harsher sanctions that it has in years in the event of a Russian invasion.
Those could include moves to cut big Russian banks off from the western financial system, as well as potentially a commitment by Germany not to bring the Nord Stream 2 gas pipeline from Russia into service, according to people familiar with the plans.
The European Commission already has a draft available for discussion, according to a senior EU official, but it is being held back because of concerns including member states objecting to specifics. The paper details various options for a reaction depending on what Russia does, with scenarios including a hybrid attack and cyber warfare, as well as a military offensive, the official said.
But Germany believes that approach would leave no stick against Russia for the future because the draft would leak, the official said.
Like-minded nations argue releasing an options paper would give Putin the fight he's looking for, and that anything that
hurts Russia could well affect EU member states given their close economic ties.